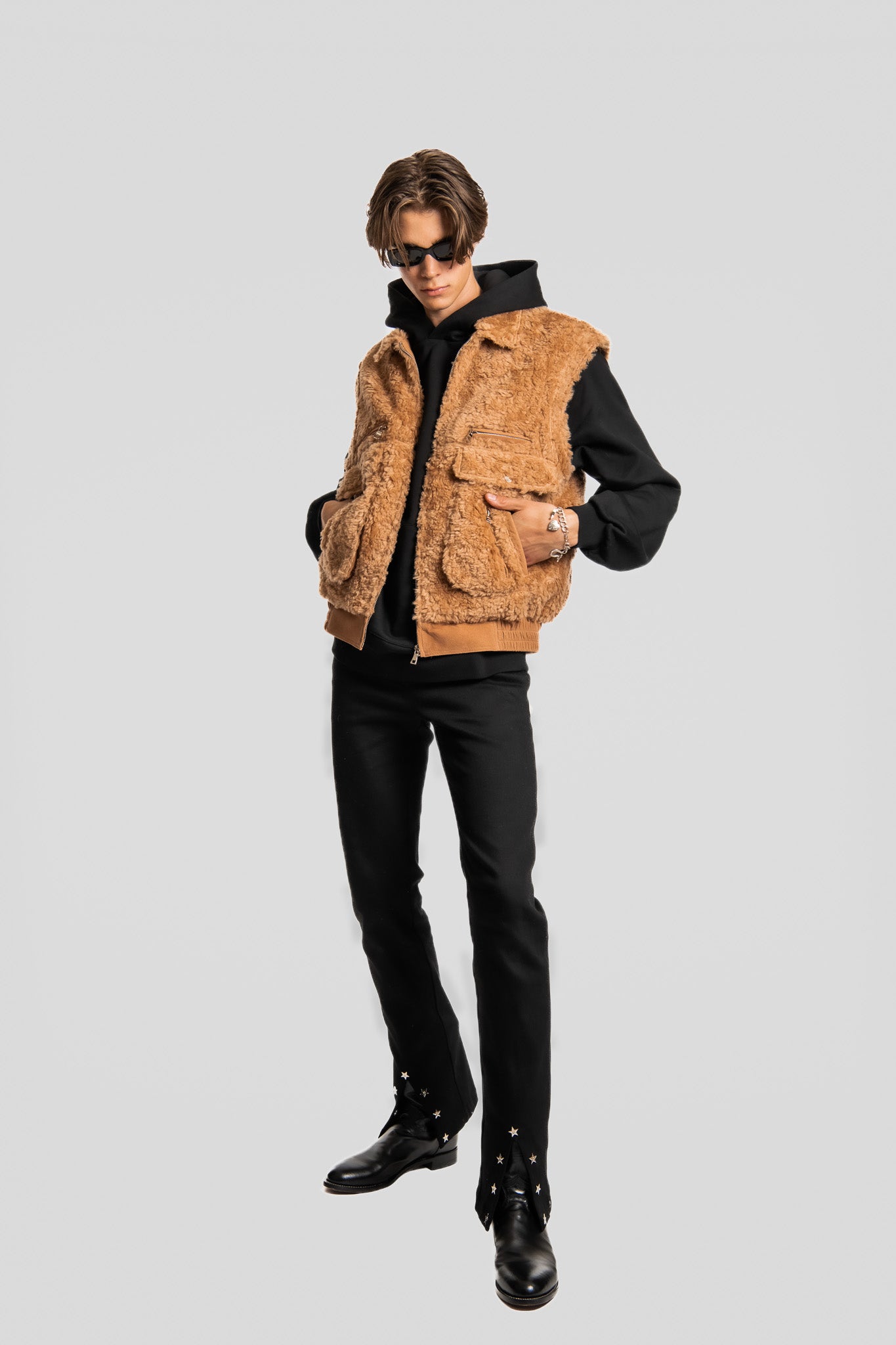 SANDSTORM LONG HAIR WOOL VEST
Out of stock? Don't see your size? Check Saks Fifth Avenue Online here or visit our stockists page to get connected and shop our retail partner sites. For any questions please email the team here.
The Keiser Clark Sandstorm Long Hair Wool Vest features a soft desert long hair wool body with a tonal desert lambskin suede detailing. The wool vest is constructed with a desert satin lining, four exterior cargo hand pockets with silvertone zipper closure, retro-style flair collar, and a silverstone zipper front closure.
THIS PIECE FITS TRUE TO SIZE. FOR REFERENCE MODEL BILL KEOGH IS 6'3 170 LBS WEARING A SIZE LARGE. FOR A MORE OVERSIZED OR RELAXED FIT WE RECOMMEND BUYING ONE SIZE UP. FOR EXACT MEASUREMENTS EMAIL THE TEAM AT info@keiserclark.com.

OUR GENERAL APPROACH WASH LESS - WEAR MORE, BUT IF/ WHEN YOU DO NEED TO WASH THIS PIECE PROFESSIONAL WASH ONLY.
KEISER CLARK SHIPS WORLDWIDE. ALL INTERNATIONAL ORDERS ARE SHIPPED DELIVERY DUTIES UNPAID. CUSTOMS, DUTIES, AND TAXES ARE NOT INCLUDED IN THE ITEM PRICE OR SHIPPING COST AT CHECKOUT.
THE RETURN/ EXCHANGE WINDOW FOR ONLINE PURCHASES IS 10 DAYS FROM THE DATE OF DELIVERY. TO INITIATE A RETURN/ EXCHANGE, PLEASE EMAIL THE TEAM AT INFO@KEISERCLARK.COM WITH YOUR ORDER NUMBER TO REQUEST A RETURN/ EXCHANGE AUTHORIZATION.
FOR MORE ON OUR SHIPPING AND RETURN/ EXCHANGE POLICY FOLLOW THE LINK HERE. AS ALWAYS IF YOU HAVE ANY QUESTIONS OR CONCERNS EMAIL THE TEAM AT INFO@KEISERCLARK.COM.